There're still a coupla of gems in Bangsar Baru, KL. Checked out El Meson (2282-8290), a Spanish restaurant and bar on Telawi. (Warning – clicking on the link will instantly emit loud Spanish trumpets. Haha)
Session began like it should, with a pitcher of sangria ($90.48. All prices nett). There are like 4 varieties here, and we went for the original. Fruity, refreshing and reasonably strong, how a sangria should be!
According to GM Mark Robert, each pitcher has half a bottle of Merlot and 2.5 shots of the house brandy, Remy Martin. And lots of fruit. Nice.
There're also sangrias like White, Apple and Blueberry.
Sangria was enjoyed with a platter of meats. The Platter for Two ($62.64 nett) has pork ham samples of Iberico, Serrano, Parma, Speck, Salchicon and Chorizo. Sliced real thin, and a good intro to Spanish ham like Iberico.
The pigs are (used to be) happy ones, especially the Iberian ones, who usually hop around freely & joyfully on green pastures and… eat green stuff. Thus, Jamon Iberico is highly-prized.
We hit some good ol siew yoke, aka Crispy Roast Pork Belly ($25.52). Tender inside, crispy, garlicy outside. So it went quick. Comes with apple sauce. Limited amounts daily, unless ordered in advance.
The pig onslaught continued with this little guy..
A house special. The skin is perfectly done, not too crispy, and the meat and fat inside is like butter dammit. Sweet.
The Cochinillo requires 24 hours notice, and starts from $56.85  for a quarter.
There's suckling lamb too! Damn, gotta nail that sometime.
Like that feast wasnt enough, we also had the Paella Mixta for two ($78.88), something unusual. Most people would go for the seafood version. This is a mix of seafood and Valenciana.
The Valenciana is a provincial one, and is different. It has chicken, pork, spicy Chorizo sausages, green beans and chicken stock.
The Mixta is juicy, nice n sticky, with a unique mix of flavours, primarily tangy and a little sweet-sour. Very interesting. Cleaned-out.
Dessert was the clincher – something Lava. Well, it was real lava allright! Flowing, molten chocolate, around a scoop of home-made ice-cream. Killa!
(Fire in a shot of rum for more fun)
Other items that caught my eye include rabbit stew in red wine, slow-cooked Iberico rack of ribs, and a whole bunch of tapas.
I hear their Sunday breakfast rocks. Opens at 8am, and near full-house.
There are events comin up at El Meson, including a Spanish Independence Day buffet party, which i definitely will attend. You can get updated about their stuff via their Facebook page here.
There are various cocktails by pitchers, a wine cellar, some awesome Spanish sherrys and liqueurs (try the red wine liqueur) and a whole bunch of bubbly cocktails.
Open daily for breakfast, lunch n dinner; Saturday and Sunday it's from 8am. If u ever need an extra-early drink, u know where it's at.
Being high quality in food ingredients as well as being in Bangsar, prices are as expected above average to high.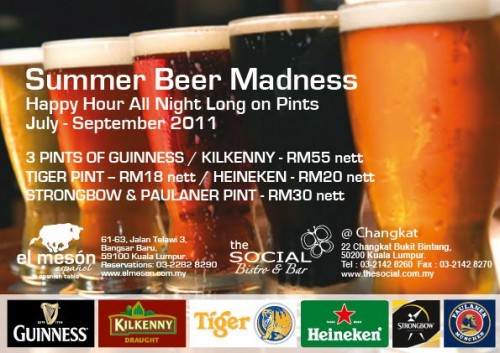 However, re drink promos, u can enjoy three pints of Kilkenny or Guinness at $55 nett all day and night, everyday.
Enjoy!
Brain damage: 8/10