I had a fantastic wine-tasting recently, which took place at Graze, Hilton KL. It's very rare that i love all the wines at these sessions, but man, these were perfectly-selected.
The delicious award-winning Californian wines are under Treasury Wine Estates, and the session was guided by TWE Winemaking Ambassador Stuart Rusted.
We had several wines before and during lunch, starting with the Beringer Founder's Estate Sauvignon Blanc. Refreshing & fruity in a citrusy way, soft, but rich as well. Clean grassy finish.
It's for sure a superb wine, one that could easily challenge New Zealand's sauvignon blancs. The grapes are from vineyards on the Central Coast mixed with those from the California Delta. I had to go for seconds. And thirds.
It's RRP is RM89, which is awesome value. Beringer has been producing since 1876 in Napa Valley.
After i got my late breakfast outta the way we had the Chardonnay. It was the Sterling Vineyards VC (RRP RM117). Again, the right amount of fruit, minimal dryness when it ends, and less oaky that the usual. A citrusy finish.
A little tipsy by the time lunch was served. Food was awesome, as usual.
This was probably the first time i had a Cali merlot, the Stags Leap Napa Valley Merlot 2014 (279). Wine growers have faced a drought there for a decade, giving the grape richer flavours. As is typical of merlots, this one has a dry finish; however not the tongue-twisting dryness that usually puts me off merlot.
I'm more of a cabsauv kinda guy. We were served the Beaulieu Vineyards Cab Sauv 2015 (92). On my palate i got sweet berry. It's also a little 'leafy', with tannin, but these are lighter flavours. Finish is velvety. Another excellent production.

This was followed by an on-point Pinot, Sterling Vineyards VC Pinot Noir 2015 (117). It does a 10-month bid in American & French oak. The concentrated palate is rich with good depth and complex flavors of dark berries.
For the finale, our glasses were blessed with the Beringer Private Reserve Cab Sauv 2012 (489). (ABV 14.9%)
Their wines are near-perfect. Amazing stuff.
And understandably except for the Private Reserve, the prices are as enticing as the quality of these superb productions.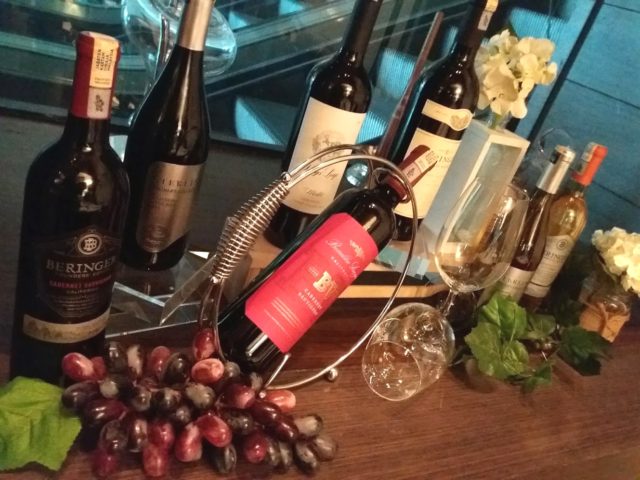 I'll definitely get my hands on some these wines, and not necessarily for special occasions either. Sunday breakfast should do.
Brain damage: 8/10