Yup, dat was d title of a session by Patron in the city recently. I like Marini's – nice n fancy for a proper dinner with great drinks.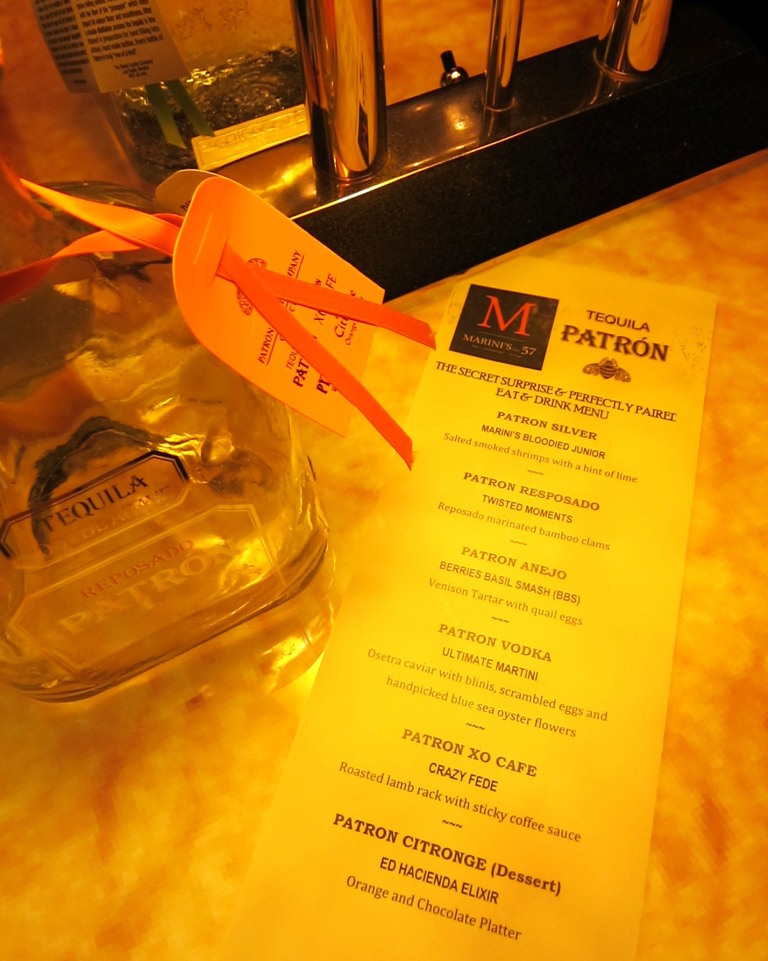 Proceedings began with the one-of-kind 'Bloody Mary', a stronger called Marini's Blooded Junior, as it was created by Junior Joe, formerly of View Bar, now with Marini's.
With a base of Patron Silver, it's got Asian-kitchen aromas, as there's a bbq-powder rim, Maggi seasoning sauce, and some tomato juice. A unique, herbaly drink, with a bitter finish. The celery ice-cubes sure grow on you.
This was served with smoked shrimps.
The second cocktail, Twisted Moments is like a margarita that's more like a martini – strong, and taste-wise, bitter-sweet. This uses Patron Reposado.
Berries Basil Smash was definitely my fave of the night – a fruity blow-up. Very pleasant berry aromas, and a superb fruit cocktail experience. Berries go really well with tequila, especially slightly-aged ones. This Patron Anejo drink was served with Venison Tartare. Great stuff.
Patron also has a vodka! This was used to make the Ultimate Martini. Two words – very strong. (Served with caviar.)
Unfortunately i had to split before the dessert, and missed the Patron XO Cafe!
Patron is a well-respected, 100% agave tequila. While the Silver is the standard issue, the Anejo and Reposado display more character due to aging in barrels.
The first time i had it, things got messy. Haha
And it comes in cool bottles too!
Brain damage: 7.5/10