The worldwide trend on mainstream beers puts Heineken (Holland) at the top of the Best-Selling category, as voted in Drinks International by 50 top bars, followed by Peroni (Italy) and Asahi (Japan). Sapporo (Japan) is at 8. Tsing Tao (China) is in there too, at no 10.  Asia represent!
Hoping to see some Southeast Asian brands up there soon, like Chang, Singha or Tiger.
And in the Top Trending brands, Asahi is number one. Then its Peroni and Stella Artois (Belgium). Fermented Mexican piss Corona seems to be making some sort of a comeback, at number 4 in this category. Another Jap, Kirin, comes in at no 10. (Heineken is at 7.)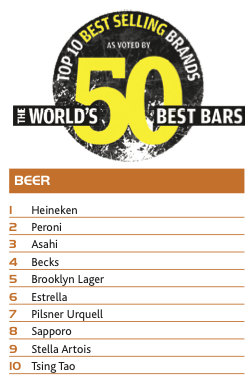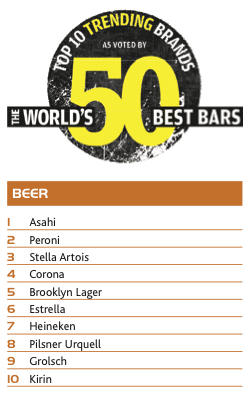 One thing is clear from these trends. Lagers still run the show. For now.