That's right. The liver-protectors are organizing a booze-fueled party on Wednesday, April 3, at Sid's TTDI.
What's the deal? Well, for every box of Kamilari you purchase, you get a PINT of Tiger or Guinness free along with it! This is what i call an offer you can't refuse.
Get healthy, but get high first.
Or if just rather drink and see what's it about, you can buy a mug of Tiger or a half-pint Guinness for ten bucks, from 630pm till late. It's part of Kamilari's RunAway Tour 2013, which will hit Ipoh and Penang next.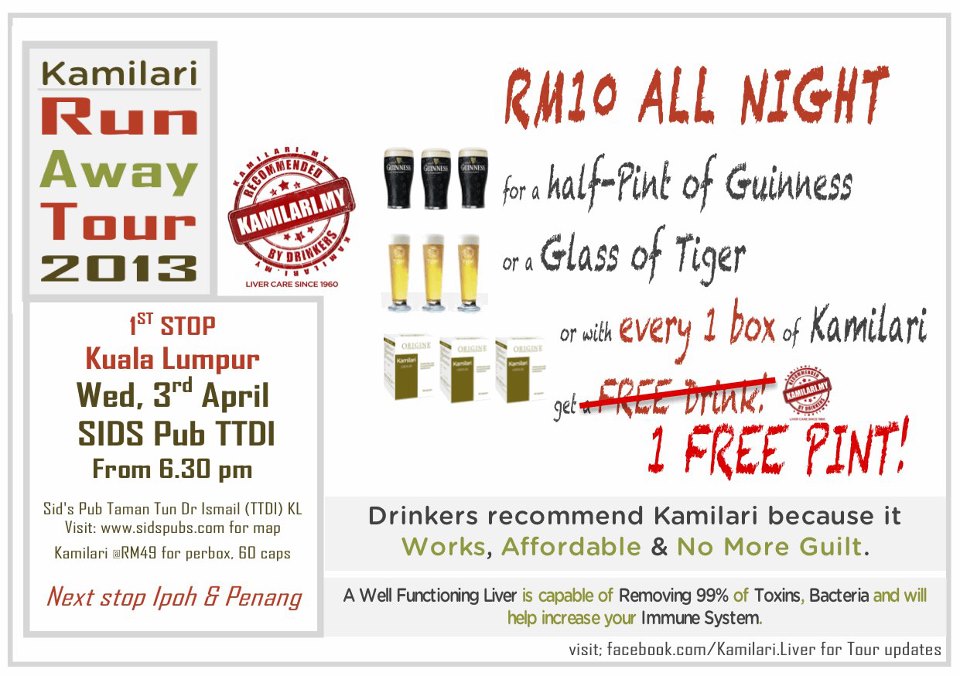 It's a sweet deal. I'd recommend getting some Kamilari and popping it on a regular basis to strengthen your immunity against the daily toxins we put onto our bodies and into our mouths, and to give your liver some back-up. It's very reasonable at 50 bucks for 60 capsules. I have already attested to its effectiveness in an experiment i did before.
Event details here. Kamilari's site, if you'd rather score it online, is here.
And btw, yesterday's post was a  joke.