Chivas sure threw a party.The brand introduced its newest expression, Chivas Extra, at a cool party at a cool spot, the Glasshouse in Seputeh, KL
Chivas Extra is a rich, but easily-enjoyed-anytime Scotch. It's a very different whisky from Chivas Regal, and it stands on its own from the other expressions.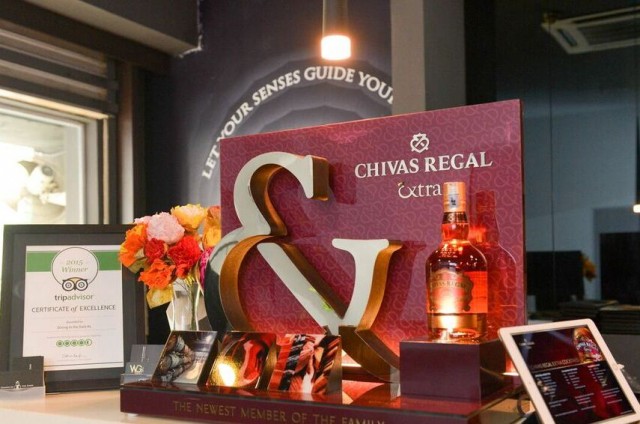 It's a collection of Chivas Brothers' rare whiskies built on a foundation of malts that have been matured in a higher proportion of sherry casks. This process delivers a good depth of flavour. I liked it. It has a fruity, sweetish, nose and palate.
It was crafted by Chivas Regal Master Blender Colin Scott.
The launch party saw various activities like drinking, as well as a great set by Joey G, and varieties of whisky cocktails, and tasting sessions..
A few of us were luckier than the rest though – the introduction to Chivas Extra took place a few weeks ahead. We were invited to a special event.
After a few Chivas cocktails which took place at Marble 8, it was dinner time, and this showed up –
The ride had plush seats, and a bar. Great stuff.
We were taken to a very interesting dining experience, Dining In The Dark.
It began with a pre-dinner drinks at the bar, before we, in a single file, held the shoulder of the person in front and were lead into complete darkness.
It was surreal eating and drinking and getting high in complete darkness. There was so much conversation going on, and i had no idea who i was talking to. Till later. Haha.
Chivas Extra's ABV is 40%, and it's available at whisky stores as well as certain F&B outlets.
Brain damage: 8.5/10