Single malt player Macallan  introduced its 1824 Masters Series range through a luxurious dining experience that interestingly, collaborated with Aziamendi 88, Malaysia's first 3-Michelin star chef pop-up restaurant.
The chefs were brought in from Aziamendi, a 3-Michelin star restaurant in Phuket, Thailand, for the month-long pop-up restaurant experience at Mandarin Oriental Kuala Lumpur.
As is the trend now, guests were given a whisky cocktail to start. While we were warming-up, a little basket was served to our tables. It's called the Picnic, and is a mix of appetizers, including some caviar, and a little ball filled with booze that you pop into your mouth. Nice.
And there was another cool item once we took our lunch seats, a starter called The Bonsai Tree, which had items hanging on it that we could harvest and eat.
Three of Macallan's expressions were paired in sequence through the course of the dining experience; The Macallan Sherry Oak 12 Years Old, The Macallan Fine Oak 15 Years Old & The Macallan Rare Cask.
Each expression brings about its own unique character and taste profile, complementing the exquisite food that was served. It was a six-course whisky-pairing dining experience.
One of the items was a very unique foie gras one, called Foie Gras Ashes.  It had shaved bits that literally melts in your mouth; served with the Fine Oak 15.
I particularly enjoyed the smoked tuna, as well as the lobster, which was as juicy as a beach cocktail.
The aged duck was well-presented, and had some strong flavours, thanks to the accompanying condiments. This was served with the Rare Cask.
Macallan is a huge user of seasoned sherry casks to age its whiskies. The casks are made, then sent to Spain to be used by the sherry wineries for 18 months, then brought back to Scotland to age the Scotch. Sherry casks impart notes of vanilla, dried fruit, chocolate and wood smoke.
The Macallan Fine Oak is actually aged in three different barrels. I found it smoother than the 12; more floral even, with some citrus too. It comes in at 43% abv.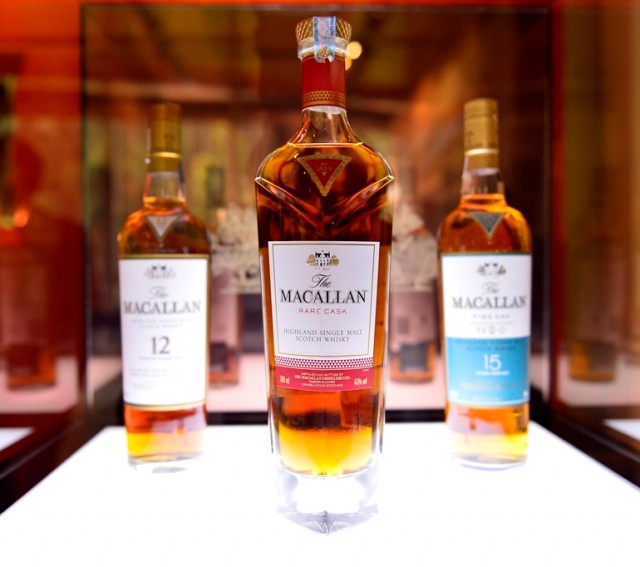 The Rare Cask has an amazing 16 cask profiles, and is sold in a decanter. It holds whiskies that are 13 – 30 years old. I found it a little nutty, with some tropical fruit, and it gives you your money's worth on the finish! A real long one.
The Rare Cask Black, which comes in a black bottle, will only be available in travel retail.
As it was a Monday event, we didn't drink much. The highlight and surprise of the day was when we were served some Macallan Reflexion, a very rare and expensive dram.
It contains whiskies that are 20 – 30 years old, and is from smaller 250L casks, increasing its intensity. But i found it to be very very smooth and the perfect end to a wonderful lunch.
Having a pop-up Michelin experience was definitely a brilliant idea to showcase Macallan's top line-up, in an unforgettable F&B experience.
Brain damage: 7/10