A tea distributor, Exclusivitea, had an interesting event recently at 61 Monarchy, featuring drinks that also had tea in them, as well as  Fentimans Botanically Brewed sodas. The tea, Ronnefeldt, is from Germany, with at least a dozen styles and flavours available.
The cocktails were created by Shirmy.
Three cocktails were available, kicking off with Berries Wonderland – Tanqueray 10, Creme de Cacao, Shiso Leaves, simple syrup, lemon juice and Ronnefeldt Sweet Berries soda. A complicated mix of flavours, however a lil on the bitter-ish side for me.
The Spices Breamble is an exciting drink. It's made of vodka infused with Ronnefeldt Masala Chai, Creme de Cassis, fresh pineapple juice, lemon juice, evaporated milk and simple syrup.
I loved it. An excellent mix with tinges of fruit, spice and cream coming together amazingly. The masala taste from the tea is just right. Tho i'd prefer a little less sweetness, most would find it fine.
The final drink is made of Monkey Shoulder, Cherry Heering, Sweet Vermouth, lemon juice, dry orange peel, Fentiman's Mandarin & Seville Orange Jigger topped with Ronnefeldt Roiboos Orange foam, called T-Joy. I got a bitch-slap after the previous milky indulgence. This one is a zesty, strong surprise, with a finish of orange and whisky.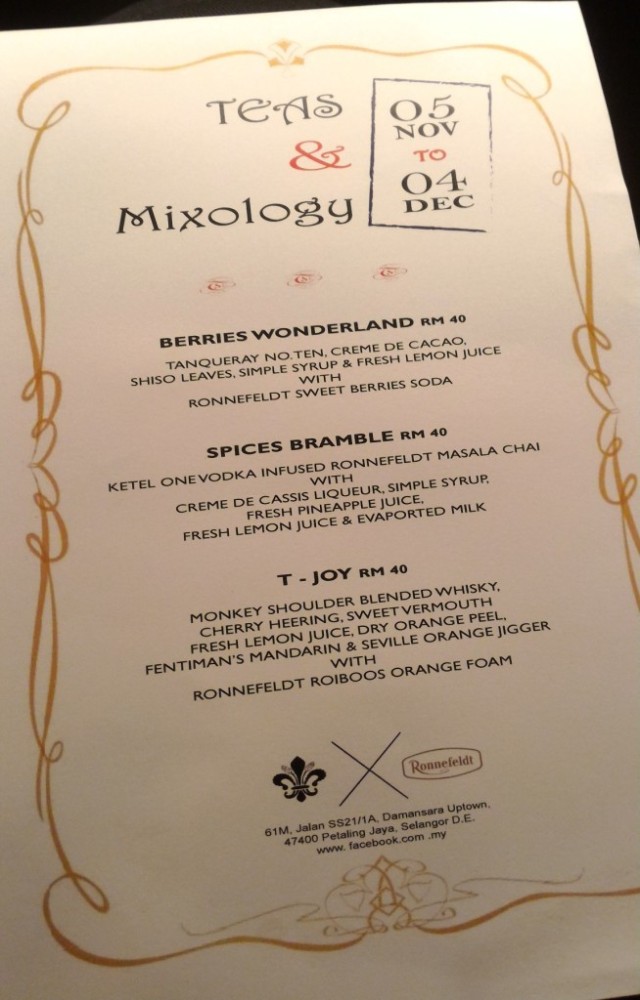 I have yet to try the teas on their own, but they seem to be good stuff, and doing a good job by experimenting with alcohols and such. Tea-related cocktails are are quite common, but this is a good effort by Exlcusivetea.
The cocktails cost RM40 each and are available till Dec 4 at 61 Monarchy.
Brain damage: 7/10