Sagatiba did a great cocktail session at View Rooftop Bar, G Tower, called Fresh Mixology Session with John Gakuru. In town for this was John, who's Sagatiba's brand manager based in London.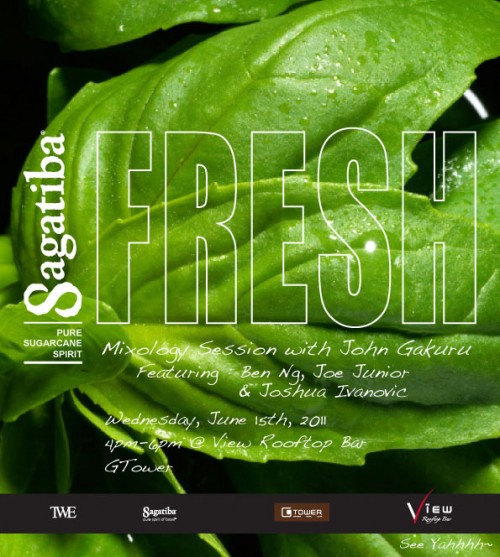 Funny thing – i shot all pictures blind – my camera's lcd screen is blank, and there's no viewfinder. Gotta mentally imagine the picture n shoot. Haha! Koyak.
Bartenders in action – John, Ben Ng (Fluid Alchemy), Junior (View) and Josh (21), all established guys.
For some reason, i wuz expecting a classroom / education session. Instead, what i got was an all-out, party-style, cocktail-making and drinking session! On a rooftop.
Definitely not disappointed.
It was very well-organized by TWE. Congrats Michelle, Vincent, u boozepimps!
Each bartender has minimum three special fresh cocktails created, and u just go up to each of them and make a request from their list.
Too easy.
My first drink of the afternoon was at Junior's station – Pineapple Cardamom Caipirinha: pineapple chunks, 30ml cardamom syrup, 60ml Sagatiba Pura. Interesting; lil too sweet for me.
Hit up the Kayu Manis next: a whole lime, 30ml palm sugar, 60ml Sagatiba, one cinnamon stick. This one's refreshing, tho very limey after awhile.
Ben was my next visit. He fixed me a shooter called Red Hot Smoke. Totally loved this – zesty, fresh, slightly herbal-spicy.
It's a mix of smoked Sagatiba and gazpacho (tomato, aged balsamic vinegar, chillies, ginger & citrus). I had many.
I checked in at John's station. What i loved most was this –
It won cocktail of the year by Wallpaper magazine. Nice mix of tangy n light sweetness.
Its 30ml Sagatiba, 20ml fresh passion fruit puree, 1 bar spoon of passion fruit syrup, 2cm of a vanilla pod, 1 small piece (5mm) of red chilli (to taste) (optional).
Unfortunately, all the notes i made while drinking is gone. The wind was awesome on d roof, so i wondered how paper planes will perform if i threw them off, so unintentionally away went my notes.
Ridiculous! D stupid shit i do when am cruisin. Making paper planes from your media release gotta be waay up there.
Afternoon drinking. I like.
I think i asked John on several different occasions for particular styles of cocktails, etc, that i wanted him to make. He obliged, in style. We chatted n shit.
There came a point when John yelled, referring to me, "Who is this guy?? Really, who are you man?". Haha! I guess i got his attention. After introductions, he says he's been to this blog. Alco.
John's got skills, and it was an honour sampling his varied styles of cocktails. He gave me ideas.
Chachaca is pretty versatile, good for cocktails or shots. If u like rum, but would like a stronger-taste liquor base for your mixes, consider Sagatiba, either Pura or Velha.
A funky, casual, professional cocktail showcase in a great atmosphere. We could use more of these!
Brain damage: 7.5/10