Boozepimp of the Month is a column that features respectable players in the alcohol industry. These are interesting personalities in the scene that have made a significant impact, or have the potential to do so, or would like to do so.
The Boozepimps for October are….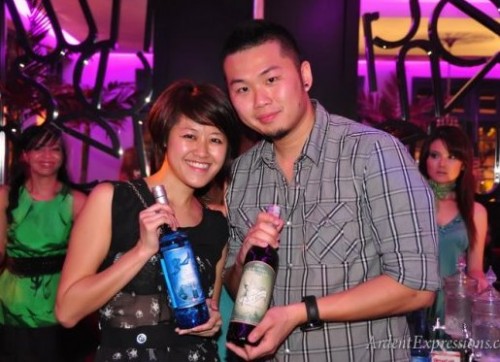 Vincent Loh & Michelle Loh, a brother-sister act. They're part of the well-established family business called Tong Woh Enterprise (TWE, 1968), which is a big importer & distributor of booze – liquors, liqueurs, wines, etc. (They also deal in Chinese medicines n shit, but am not interested in that.)
I'm actually jealous of them. Maybe i'll apply for a job there.
Most self-respecting alcos have stepped into their retail outlet at PJ New Town at some point. A spot for good value for most bottles. U can get a real good absinthe for $198. Loads of wines n bubblys too.
TWE works closely with key partners such as GAB, CCBM, Moet Hennessy Diageo (MGD), Diageo Malaysia, Beam-Global, Remy-Cointreau, etc.
Anyway, I call these two Double Trouble. Coz I always bump into them when either me or them are already high, or all of us are whacked, and of course we'll strive to get higher! Its nice partyin with them.
Vince is a dude. Met him only last year, and I usually look forward to seeing him. He's 30 years old, and is the business development manager at TWE. He used to be a designer. Designing hangovers probably. Besides drinking, Vince likes to mountain bike, dive, fish n surf.
Michelle,28, is the one I met first, at her event – the launch of absinthe in Malaysia. The blog had just been created and this was one of my first gigs. She's TWE's marketing manager, and is friendly and pleasant, and can drink. Good qualities eh? U wanna know about absinthe, ask her.
When she's not drinking, she's into gourmet food & artisanal drinks, and would like to travel the world to learn about others' ways of life, and their eating and drinking culture.
Yea, who wouldnt?!
Anyway, here are some questions I had for them.

I: What's it like owning a store/warehouse full of booze?
Michelle: It's a wonderland to many, haha!
Vince: For me, is like a kid in candy land.
I:. How many brands of wine, beer, liqueur and liquor do u think u have in stock?
M: A lot le, basically whatever you can get at a bar, we carry.
I: Which are you favourites among all the booze u got?
M:  Guinness, absinthe. Actually you can mix both and it becomes incredible! And champagne, but it's a love-hate relationship this one.
V: Absinthe!! The most misunderstood drink. The wonderful richness of aromas; the taste of anise opens up the tastebuds to the other flavours. A very refreshing and interesting drink. But on the outside, i like a pint of freshly and perfectly-poured, creamy Guinness Draught, drank with its optimum temperature!! Aaahhhhhh
I. Can u go to the booze section and grab anything u like?
M: Err… yeah.. It's quite awesome.
V: No laa. We're Hakka, every single cent counts!
(Am gonna hang with Michelle)
I: What do u like about your job?
M: Going to the booze section and grabbing anything I like.
V: For me, meeting new people, and the license to drink. There's always something happening in this industry. Functions, events almost every day. I gain new knowledge of booze from time to time.
I: Nice. Any exciting stuff coming up?
M: We are trying to do more for Sagatiba, the Brazilian cachaca that we imported early this year; and we've recently brought in mezcal (the 'tequila' with the 'worm') from Oaxaca. Mexico. There'll be continuous efforts to promote the 15-year old Scotch whisky, Morriston Gold. There're few other projects in mind that we are very excited about, but let's keep it hush-hush for now.
OK, you can tell me later!
V:  We're also moving to a bigger office next year, major expansion going on, more staff, stronger sales force, new departments such as branding and marketing.
I: How has absinthe been going since u launched it in Malaysia?
M: It took us some time to create awareness and – I don't like the word but – educate – people what absinthe is all about, its history and myth and how to properly enjoy the Green Fairy. We're far from the golden era of absinthe during Belle Epoque Paris, but there're definitely growing numbers who're interested and eager to try absinthe.
I: Hows the TWE-created liquor project going?
M: The new and improved TWE House Pouring range will be fully ready by the end of October. We call it the Rhapsody; the eclectic range includes basic bar pouring needs: Le Monde VSOP brandy, Symphony Whisky, Savoy Gin, Spry Vodka (pronounced as spree), Frida Tequila and Gonzo Rum. The range serves as an alternative for outlets who offer free-flow and promo cocktails, as the price is lower than most premium imported brands, yet the quality is still up-to-standard.
I: Yea, I hope its better than the shit some bars are still serving. How has TWE changed over the years?
M: As we're a family-owned business, the tradition and skeleton management structure remained unchanged. However, with the 3rd generation, namely Vince and I onboard, we hope we're making changes bit by bit and giving the company a breath of fresh air. Not to mention we are moving into a bigger warehouse with a full-fledged bar for demo and training (and drinking) purpose!
OK! Am there!
V:  My grandfather, my uncles and my father have put their lives into the business. From a small Chinese medical hall, mini-market to today TWE, a main player in the liquor distribution business. Now we're bringing in our own brands. TWE is still growing, full of potential!
I. How do u see TWE in the future?
M: Optimistic! As long as the authorities don't make consistent efforts to put us out of business – our duty & tax for alcohol remains one of the highest in the world!
Yup. Go join Alcon then.
V: I think it will be a much more dynamic and organized company. TWE will venture into other businesses, and become an all-rounder company.
I: Cool. I really hope u guys open a bar. Your thoughts on the alcohol and drinking scene here?
M: We're few years behind in the global alcohol and drinking scene. Most trends will only be picked up by here after being popular in the region for couple of years. Though we have well-travelled drinkers who know their drinks (thank u, thank u!), the majority remain pretty ol' skool and still stuck at the open-bottle-yum-seng state. Hence, sometimes even though there are good brands available, but due to low demand and monopolization of giant companies, these brands come-and-go without being noticed.
Having said that, we're a semi-developed market that carries great potential and the population still has money to spend. So, again, as long as the authorities leave the importers and operators alone, and actually encourage the growth of F&B industry, I think Malaysia will be on par if not better than our neighbouring countries.
V: Yea. Malaysia's drinking scene is growing, bigger clubs, richer crowd, younger drinkers. Drinkers are a lot smarter nowadays – qualities of drinks is a MUST!
I: Agree on that. Some bar owners assume we're all dumb, when only some are. Haha. Anything u'd like to say to the Malaysian consumers?
M: We're working our asses off to bring you good stuff… and the price is lower now coz of competition, so drink more!!
V: It's nice to get tipsy from time to time, just make sure we enjoy this wonderful creation responsibly. Jom! It's time for happy hour!!