Japanese lager Kirin has hit our shores officially, via GAB.
The launch party was awesome. And huge, taking place at Zebra Square in the city.
Party kicked off just before sunset about 7pm, the best time to start drinks.
There was Japanese cuisine awaiting guests as soon as we stepped in, with an outdoor BBQ goin on. A friend passed me some yakitori (meat & seafood), which went well with the beer.
The main party was actually indoors. The set-up was like a mini food street, with lil stalls serving up good Japanese stuff. Swallowed them all, 'cept some green tea dessert shit.
Bumped into the bartender that kept us happy during my last event at Zebra Square. He did a super job this time too.
The Japanese ambassador launched it in front of about 400 guests.
We enjoyed Kirin from bottles all night. The beer is 100% malt, as many beers are. This means it's all-barley malt, with are no adjuncts like rice or corn. Some brewers like Budweiser add those to help the beer taste lighter, and coz it's cheaper.
However Kirin Breweries (which was established in 1869) uses only the first-press of the filtered malt, which means the malt mash is filtered only once, then the wort sent to fermentation. The first-press is usually lighter, so this makes the beer taste lighter as well. Dont panic coz alcohol content is the same at 5%.
I'd put this down as a pale lager / pilsner. Characteristics of Kirin – light start, quiet finish, no lingering taste, medium-high carbonation. Bitterness is minimal. I'd say it's a beer you can enjoy at anytime with most meals. Breakfast included of course. Goes down easy.
There was a limited amount of Kirin draught available, which was enjoyable. Smooth.
I do think they should drop the "ichiban" for the export market, coz itchy bun means something else in English. Cracked us up each time the MC said it! Doesn't sound cool. I overheard some trade guys near me sayin sumtin about itchy bawah.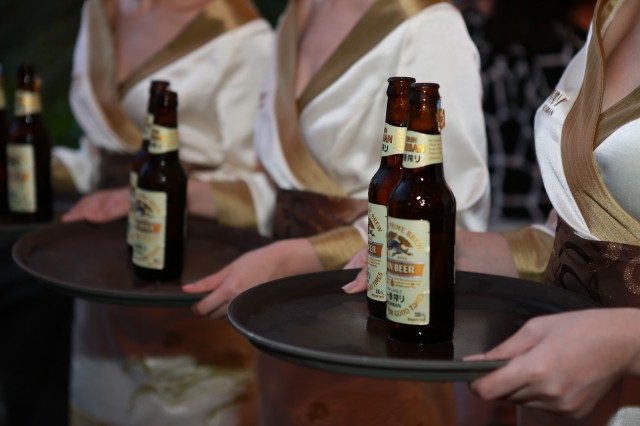 I've always thought GAB needs a wider portfolio. As for bringing in Kirin (they have a 5-year deal), it would be facing-off with (and is probably a reaction to) Asahi from Carlsberg (CMB). Which has years' head-start.
An advantage GAB has is CMB has done all the groundwork as far as making Malaysians try Japanese beer. So the consumer-education spend and effort will be a lot less.
However, CMB now brews Asahi here, so they price it reasonably. GAB does not have that advantage yet.
Look out for Kirin at bars and supermarkets in Peninsular Malaysia. It's available in bottles and cans. and possibly draught in the second half of the year.
Brain damage: 7.5/10