Carlsberg Malaysia (CMB) 's unorthodox managing director Soren Ravn is outta here on July 1, after leading the brewery for three party-packed years.
Soren will be remembered as a sport, who mingled and drank with the crowd at the beer brand's many launches and gigs (and rapped). No doubt he'll be missed.
There was a real grand send-off party at the funky rooftop bar, Luna. Everybody was there.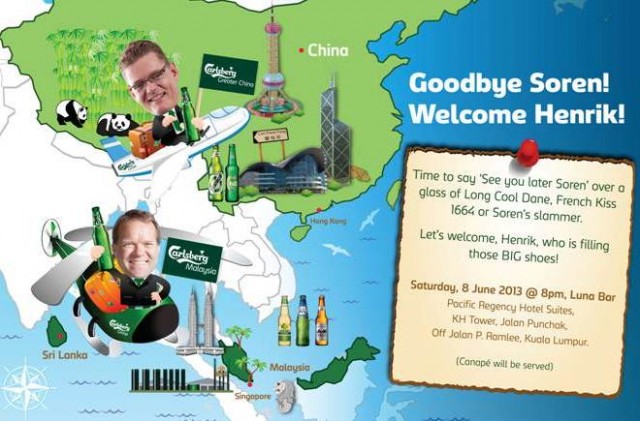 Fortunately, Soren's got a big-ass promotion / raise, and at age 39, the Dane will be CEO of Carlsberg Greater China (China+HK+Macau+Taiwan). From being in charge of one brewery here, Soren will handle 41! That's three billion litres of beer annually.
Or 8.2 million a day. Or 5,707 litres every second. Buuurp!
On his watch, CMB's growth has been good, helped by a diversification in its beer portfolio, bringing in some brands i frequently enjoy (via its subsidiary Luen Heng), such as Hoegaarden, Franziskaner, Savannah, Jagermeister, Asahi, Kronenbourg, Erdinger, Leffe and Konig, although they lack a decent stout. They got liquors too. (And Amarula!)
I remember just a few years back when Carlsberg's online presence was… crap. Their comms/PR wasn't dat great either, and same with their website and FB. Things are much better now, with more engagement. I assume it was Soren's influence. In fact, where GAB used to lead, CMB might have caught up or even surpassed them, as it's been very active.
CMB has managed to get a lot of support from online media now.
Henrik Juel Andersen, a Dane aged 46, will succeed Soren. He's currently the Regional CEO of Carlsberg Indochina, a position he has held for the past five years.
All the best to Soren. Go yamseng your butt off in China.
The MD of rival Guinness Anchor Bhd (GAB) has also left. However, there was no information where he's goin, except that Hans Essaadi has taken over. Hans was the MD of Heineken Africa & Middle East.
Well, never really got to know Charles (who's English). He's been in charge of GAB for the last six years.
Anyway, significant top-level change among our breweries. We'll wait and see how things will pan out for the year then.