The Hill in Damansara Heights has relaunched their cocktail menu with some additions.
Barry Chalmers, who was Theme mag's UK bartender of the year (2005), had a hand in creating the cocktail menu.
Hit the spot for a taste session.
Kicked off with the Fish Bowl ($69.60, all prices netted), which turned out to be my fave among four cocktails that were featured.
It's inspired by the sangria, and features white wine, cider, amarettto, muddled mango, married with lemon grass and a tinge of spice.
It tastes fruity and a little sweet. It's got that, how do i put it…. childhood-flashback effect for me, as i did get memories of lollipops. The wine cancels out some of the sweetness.
We also had the Hawaii 5-0 ($46.40), which is served in a pineapple. This is a mix of 1.5 shot Smirnoff Green Apple, rasberry jam,  pineapple juice, and Falernum syrup, which is a slightly spice, Caribbean-style sweetener. Its kinda light, with a mainly sour, n light-bitter flavour.
The Florida Keylime Pie ($34.80) is a drink in a martini glass with a toasted meringue top. The top tastes interesting, while the liquid, which is vodka-based, was too sour for me, as i like my drinks balanced. It's made of Smirnoff Lime, muddled lime, and a dash of milk.
We ended with the Tea for Two ($58), served in a teapot. And with scones. Haha! This beverage contains Hendrick's Gin, strawberry yogurt-infused tea, and strawberry jam. For those with a very sweet tooth.
The cocktail menu has a good variety of drinks served in creative ways, like the Weedkiller, which comes in a poison bottle.
There's a cool and fancy party happenin this Sunday at The Hill, in conjunction with Halloween. It's a Veuve Clicquot event called Yelloween. Entrance is with the purchase of one bottle of VC. Details, click: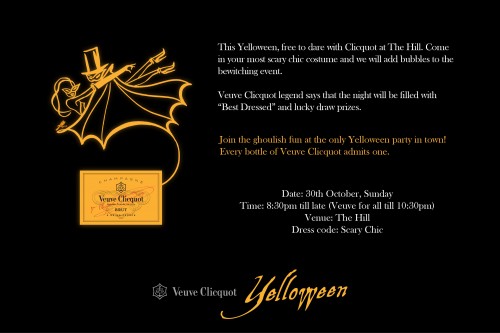 Brain damage: 7/10