Its funny how most of us dont know what the contents are of regular cocktails that we have, and the types of liquor it consists of.
Well, am gonna try to remedy that, with a new series called Basic Cocktails, aka Know Your Shit.
Today's cocktail is Long Island Iced Tea, which has no tea in it. One of my faves, it got me at "Long".
And "Island" of course.
I used to have pitchers of it every Friday at Velvet. Got me well-wasted – each n every time! Perfect score. At one of my birthdays, 12 of us had enough long islands on d table to drop Godzilla – 16 jugs. It almost dropped me.
Tho i dislike cola cocktails, taste-wise, the LIIT is considered pleasant and easy to drink, tho the alcohol content can really come thru on the palate. I usually ask 'em to go easy on the sweet 'n sour, coz it makes d drink too sweet 'n sour. Haha. In fact u could try pineapple juice instead of that.
Kick-wise, its waay up there. Respect.
.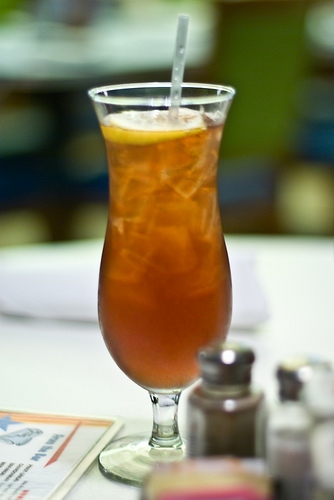 LONG ISLAND ICED TEA
Type of cocktail:   Highball (served in a high glass / Collins)
Alcohol content by volume:   28%. Phew!
Alcohol types:   5 – vodka, light rum, white tequila (aka silver/blanco), gin, Triple Sec. One shot each (30ml), tho some do half shot each, depending on the size of the glass too
Mixer:   Sour mix (aka sweet & sour), splash of cola
Standard garnish:   Slice of lemon
Method:   Shake everything except the soda, and pour into glass with ice. Top with cola
Where to have one:   Will leave it to you consumers to recommend (if possible pls include price, should be between $20-25 net). The problem is many outlets these days use cheap-ass Klang-made liquor to mix drinks. Fuckdat.
One place I know for a fact uses premium liquors is Sid's Pub, and its significantly cheaper than all the neighbouring outlets as well.
Popular variation to try:  Long Beach Iced Tea – cranberry juice substitutes the cola. Nice.