Three established brands in Diageo went for a make-over.
As of this month, Smirnoff has altered the bottle to emphasize the vodka's quality and its heritage as a supplier to Russia's Imperial Court.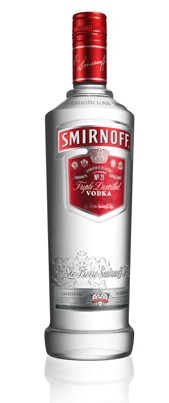 Smirnoff No.21 (alcohol-by-volume – 40%) and all its flavoured varieties will have the new look. Diageo has changed the vodka brand's main icon from a spike to a "Regal Eagle", which is accompanied on the bottle by a reference to Smirnoff's supply contract with the Russian Tsars. It displays signatures of Smirnoff alongside the featured crown.
Pyotr Smirnov founded his vodka distillery in Moscow in the 1860s, pioneering charcoal filtration in the 1870s, and becoming the first to utilize newspaper ads to stifle anti-vodka sermons, capturing two-thirds of the Moscow market by 1886. Propaganda ads eh? His brand was reportedly the Tsar's favorite. When he died, he was succeeded by his third son Vladimir Smirnov, under whom the company flourished.
Its now the world's best-selling liquor.

As for Tanqueray (ABV 47.3%), the look is more like a cocktail shaker now. The new bottle is taller and more tapered than the original 'fire-hydrant' shape, and it also features elements of the brand's heritage such as the company's signature and an embossed Tanqueray family crest on the glass. The bottle's labels have also been changed to give it a more contemporary look. It's been around for a few months tho.
Tanqueray London Dry Gin was initially distilled in 1830 by Charles Tanqueray in London. Gin is  made through double-distillation of a neutral grain spirit with botanicals added during the second distillation. Its today produced in Scotland. Did u know they had a Tanqueray Malacca Gin?? Discontinued in '04. Dammit.
The brand recently celebrated 200 years since Charles Tanqueray  was born. Where was da party?? London? How come i wasnt invited??
After 30 years, Baileys (ABV 17%) changed the look some time ago. Am sure u would have noticed the smoother, skinnier looking bottle.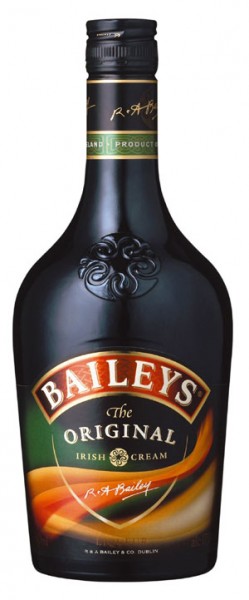 Flavours available are Original, Creme Caramel, Mint, Coffee, Hazelnut and Biscotti. It's the world's best-selling liqueur.
Bailey's (Ireland) starts life in happy Irish cows, all 40,000 of them. They're happy coz they aint kept in a pen, but get out to graze nine months a year. Their milk is added to Irish whisky within hours, followed by cocoa nibs, vanilla pods, caramel and sugar.
Goes real nice as a dessert, poured generously over vanilla ice-cream.
Daamn.