Grimbergen, a Belgian ale, now has several varieties available. The launch was at the Belgian ambassador's residence in Ampang. Quite a pad.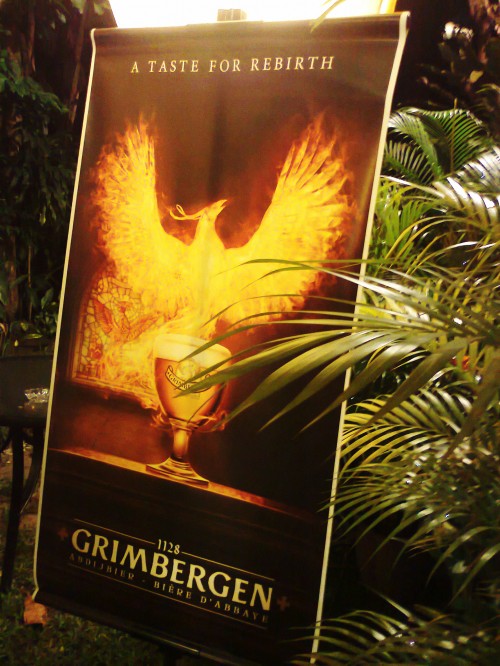 Tents were set-up in the garden.
It was quite an event.
There are three varieties now, in lil 250ml bottles – the Blond (gold, abv 6.7%), Blanche (white, 6%) and Amber (dark, 6.5%). I'm impressed with the alcohol levels. The Blanche is also available in draft.
The Blond is an easy-drinking ale, light-tasting and a lil sweetish. Good for most situations. It's been available here since April last year.
The Blanche has a fruity nose, some citrusy notes even, and in the mouth its light and clean, with no hints of bitterness at all. Refreshing.
The dark guy, Amber (aka Grimbergen Double) is also an easy-going ale, and considering its colour, it's only a light malt, and a sweetish finish.
The beer is served in a chalice, to add a barbarian touch.
The fathers at the Abbey of Grimbergen founded by St Norbert in the village of Grimbergen near Brussels logically used the hops and barley that grew around the abbey to make beer, which was consumed by travellers at the attached inn.
The phoenix logo is actually the abbey's coat-of-arms. The Carlsberg Group has acquired its license to brew.
The beers are brought in by Luen Heng, and the RRP is between $20-25 at selected bars. Brussels Beer Cafe definitely has them.
Brain damage: 7.5/10