Ecoba (7710-1118), a restaurant & bar, recently joined the PJ drinkin scene.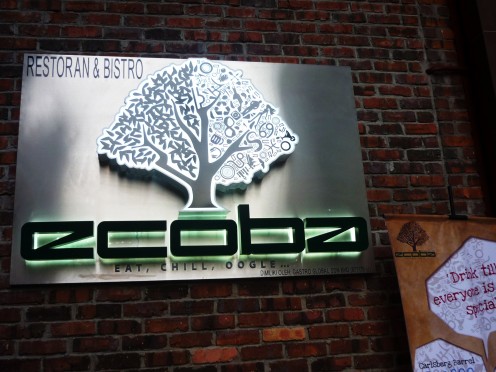 Ecoba (not Ecobar), is located in D'sara Perdana, at PJ Trade Center (Bata Tower) along d LDP. ECO stands for "Eat, Chill, Oogle", tho am sure they mean ogle, coz there's no word spelt oogle.
Headed there for the soft launch, and indulged in some Dewar's, which soon ran out.
It's got a pretty large space, and an outdoor section with bean bags n shit.
The outlet's open from 11am daily. There's happy hours (until 9) and the cheaper chill hours (before 6). Dats when 2 pints of Hoegaarden is $40. Ladies get free booze on Wednesdays.
There're also deals on liquor – like $450  for two bottles of Dewar's. More details on promos here. Cool thing is, all prices are nett.
From my observation of the scene, its probably gonna compete for The Library crowd.
There's a beer-drinking competition every Monday (Carlsberg Centurion Challenge). Down 100 shots of beer in 100 mins and get $1,800 CASH and a bottle of Skyy. Sweet deal, real sweet. I'd go for it but beer makes me fuckin piss like hell. Ur not allowed to piss or puke.
My bladder will probably explode and tear my jeans n splatter piss and flesh on everybody's faces. Uncool.
The buy-in is $188, and its limited to 10 pax. All winners get d prize. U need to register early as its full pretty quick. No lightweights, wannabes and emo-drinkers.
NOTE: Update – The challenge is now known as Elimination Centurion Challenge. Max 10 challengers. Each challenger takes a turn to call how many shots in a minute to drink (max 10 shooters per min). Once called, all must follow.  The trick to win max money is to eliminate your opponents. Each person is worth RM100. If you eliminate all… & you finish 100 shots, you walk away with $1800 (+ $900)  = $2700.
.
Brain damage: 6.5/10