Absolut's global brand ambassador was in town recently, along with the Absolut Akademi trainer. Somehow i ended takin 'em clubbing! Twice.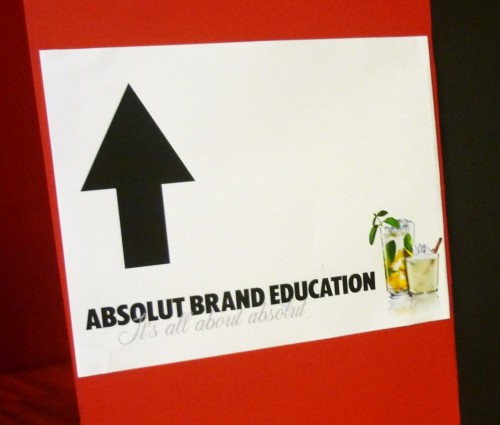 Matt Pomeroy and Hendrik Ohlstenius gave us an insight into the Absolut brand as well as the product quality during an interesting three-hour session at BlackBox, Dutamas Solaris, KL.
They're pretty funny guys. The session started with all of us being made to down a shot of Absolut. Those who were late had to take a shot too. Or if u took a call / text. So i pretended to play with my phone, n got 'punished' with another shot. Haha
We tasted eight vodkas, including Smirnoff, Sky and 42 Below. While most vodkas are meant to be tasteless & odourless, in practice they do have flavour. Absolut especially, subscribes to having a distinctive taste. However, its still distilled 7 times. The new world brands like Sky and 42 are more to the tasteless category.
Absolut gets all its raw material, the wheat, from home, ie Sweden, while some brands source them from all over the world. It does this to maintain consistency – it tastes the same wherever in the world u get it, unlike some other brands. Its still made in the little scenic town of Ahus.
Tho it only began exports to US n elsewhere in 1979, it's history is more than 100 years old, when L.O. Smith started distilling it. (Story here)
According to Hendrik, ""The biggest misconception is that vodka has no taste and doesn't add anything to the drink. In Asian countries, dark spirits like whiskey are more popular, so our job here is to educate people on how to appreciate vodka and show that you can create some really good drinks with it. We also want to share the rich heritage of the Absolut brand with them."
They got us to try all the samples neat. Instead of encouraging us by sayin "Do it!", they kept saying "Buaat!" Haha!
Ended the evening in Velvet with them and Kiki from Pernod Ricard Malaysia.
Met them again at Ecoba the next day, where there were coupla of Aussie bartenders showing some flaring skills for Absolut.
Drove them to Zeta Bar, where we partied for that nite. Fed them some local shine that i had under my seat, called Thai Song. Cheap shit, but they seemed to like it! Straight. We finished d bottle.
Doubt they'll soon forget their trip to Malaysia.