Sunday is d best day for afternoon drinks.
Well, actually anyday is good for afternoon drinks.
And here's The Kinks, the legendary garage-rock boys with Sunny Afternoon. Haha. A classic from way back in 1966.
Anyway, dis Sunday afternoon Kenny of beer blog BeerBeer is organizing a chillout event called Thirsty Sunday (trying to steal the 'Thirsty' name ah cibai? I'll sue your ass Kenny).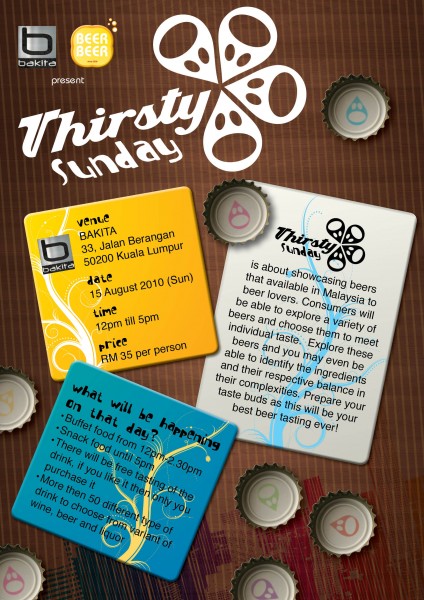 It's happening at Bakita in the city. Behind Werner's on Changkat Bkt Bintang. It's a relatively new joint dat i'm supposed to review soon.
Starts at noon, the best time to start. Ends at 5pm. Priced at $35 each. U'll get buffet  food n snacks.
Booze u gotta buy (happy hour prices). However, there'll be many beer vendors who will allow guests to taste their beers, at no charge. There shd be abt 30 different beers to test! And buy. Basically the most number of different beers u'll ever find in d country.
Kinda mini beer fest. Tasting various untried beers shd be a kick.
Am glad Kenny decided to do it in d afternoon rather than night. Good call.
Warm afternoon, cold beers. Lets get high yall.