Had a major gulp n munch session at Press Room (Bangsar Shopping Center) recently, checking out their Christmas specials. Good stuff. (Some of the the below are also available at all La Bodega outlets.)
Some interesting cocktails are available too. We opened with sumtin called Grinch (Creme de Cacao White, peppermint liqueur, Midori, milk). It's melony n refreshing. And well-balanced – which is a rare thing when it comes to cocktails.
There are light mint flavours too, and the drink's creamy light green hue looks awesome. (All these cocktails are Rm20.90 nett.)
Am obviously no salad freak, but the prawns in the Press Room Prawn Cocktail were great – fresh n crunchy, with fruity, sweet-sour flavours from the dressing.
All these nice pix courtesy of Suanie. (Thanks!)
There were a couple of other salads lying around which i ignored.
The Roasted Pumpkin with White Truffle Oil soup is gooood. Thick n creamy, with random chunks of pumpkin surprises.
The Steak Tartare here is excellent. Raw beef bits which are tender, fresh, spicy, with pickled bits n herbs adding to the party in your mouth.
I had the 25th Toast next (strawberry puree, passion puree, cava). Sourish, bubbly & strawberry-like, served in a champagne flute. Pretty OK if you like sour stuff, but it should have been served a lot colder.
I'd definitely have the fish dish again – Sea Bass with sautéed spinach and sun-dried tomato cream sauce. Tender, juicy chunks of white flesh, with just the right marination and baking time.
And for the traditionalists, there's Roast Turkey with chestnut stuffing, roasted sweet potato mash and cranberry sauce. It's a bigass drumstick. Basically, for those who want a caveman meat fest. Would have preferred more sauce / gravy.
As am cheesy, i dug the Oven-baked Herbed Provolone. Semi-hard, baked cheese. Slightly chewy.
I enjoyed the Udon Carbonara, with smoky, flavourful duck, and the meat is particularly strong-tasting.
Rudolph's Fuel is an excellent cocktail served in a martini glass. It's like a strawberry smoothie, with a boost of course – rum. Tilting a lil towards the sweet side, but still very enjoyable, with its ingredients being Matusalem (Platino), banana liqueur, strawberry puree and Creme de Cacao (White).
Crème Brûlée with Strawberries was one of the designated desserts. Pretty good.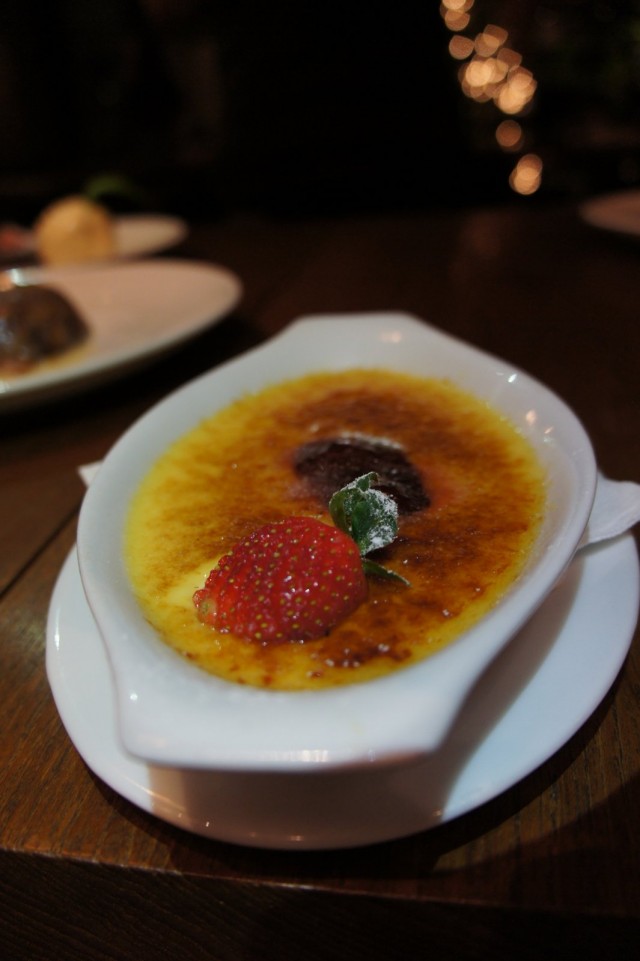 But my dessert was Vanilla Sky – Matusalem (Platino) rum, almond syrup, vanilla chai, egg n milk. It's strong, nutty, with spice hints due to floaters of cinnamon bits (which i thought was chocolate n tried to eat. Bad idea). I wdnt recommend the margarita or mojitos. I tasted mainly sugar n nothing else.
Overall, dining here is a good experience. The atmosphere is nice, the food quality high, and the Christmas cocktails enjoyable. Reservations required – 03 2095-8098.
Merry Christmas everybody! Drink on; rock on!
Brain damage: 7.5/10